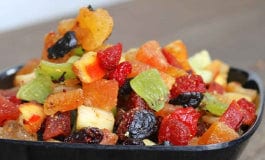 Yes! We all love a good mix, like The Avengers - an amalgamation of all the superheroes and all their superpowers. Welcome to The Avengers of the Fruit World!

All the superhero fruits combine with all their powers to give you an unbeatable fruity experience. The sweetness of cherries, chewiness of mangoes, sourness of kiwis, and grainy goodness of cranberries all come together to give you a chaat we can bet you've never had before! The chatpata salt mix that we have sprinkled on it will drive your taste buds insane with heavenly joy...

If this Godly mixture wasn't enough on its own, you can even use this in puddings or fruit creams or as a cake topping!

Ingredients
Cranberries, blackberries, mango, cherries, apples, Orange, kiwi, pomelo, blueberries

Health Benefits
- Highly rich in almost all Vitamins A, B, C, E, K
- Anti-oxidant rich which goes a long way in reducing the risk of cancer
- High in fiber, helps to improve gut health and improve digestion.
- Helps improve immunity
Exotic Fruits Mix (Masala)
Exotic Fruits Mix (Masala)
Good but dried kiwi was best part of it
My favourite in this ordertoo good!