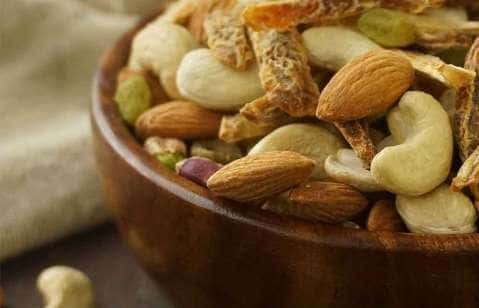 Buying and mixing all different nuts is a huge task and requires too much time… don't worry, we have done all that hard work for you!

Start your morning with a good old classic mix of plain nuts and power your way through the day.

Perfect for those suffering from obesity and diabetes on account of its natural low carb content and no added flavours!

Health Benefits
- Almonds - Excellent source of MUFA & PUFA (essential good fats) which lowers the risk of heart disease.
- Cashews give you a great dose of iron which helps to maintain haemoglobin levels in the blood.
- Raisins are essential for warding off anaemia.
- Excellent for diabetics.
- Dates are very rich in anti-oxidants which have cancer-preventing properties.
Caramelised Almond
Love all the products….. specially the caramelised almonds
Very nice
Super crisp... lovely crunchiness and taste
As natural as can be ..
Loved it