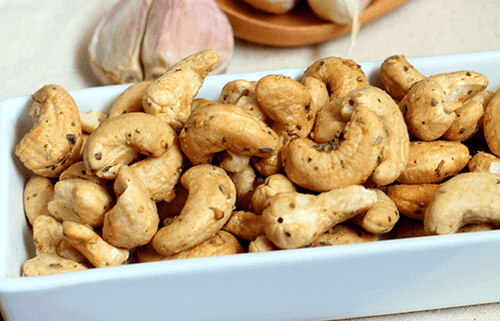 Our Story!
A lot of people approached us saying they wished to have cashews but they didn't enjoy the raw taste of it. So we took it upon us to give them what they wanted - a tasty way to enjoy the richness of cashews!

After the success of Green Chilli Cashews, we tried to give something more premium to our customers and so we tried out Burnt Garlic! It turned out to be an even bigger hit, as people who found chillies too spicy found the exotic flavour of garlic perfectly mild! It also became one of our top-gifted items during Diwali...

Health Benefits
- Gives you a great dose of iron which helps to maintain haemoglobin levels in blood.
- Cashews contain a powerful antioxidant pigment called Zea Xanthin, which helps to strengthen the retina and prevent vision loss caused by Macular Degeneration.
- Helps lower cholesterol and reduce the risk of heart diseases
Nice flavours and good quality products
Though I have a bit of complaint. The box and a few packets were eaten up by some rodent or something.
Crunchy, garlicky, satisfying
A great anytime snack, fresh, flavorful, satisfying.
very nice product
to eat to enjoy