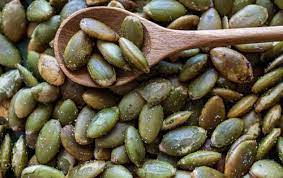 Pumpkin Seeds are one of the healthiest seeds to ever walk the earth (not literally :p) and every nutritionist recommends adding them to your daily diet. However, they are naturally very boring in taste and so most us do not really feel tempted to give them much importance...

That's why, we've given it a good little roast and added chatpata salt seasoning to it to make it glam for you! It's the mild salty version of our Peri Peri Pumpkin Seeds as some people found those a little too spicy for their liking. However, what doesn't change, is the absolute versatility -
- As a standalone munching snack in the evening while in office/home.
- As an ideal chakhna with liquor and drinks.
- As a tangy topping to salads, bhel and chaats.

Go on,grab a pack now!

Health Benefits
- Pumpkin seeds are a good source of magnesium which is important for greater bone density and has been shown to decrease the risk of osteoporosis in women after menopause.
- Ideal for diabetics as it helps to increase insulin secretion.
- Pumpkin seeds are a rich source of tryptophan, which is required to treat insomnia and improve quality of sleep.
- Pumpkin seeds contain omega-3 and omega-6 fatty acids, antioxidants, and fiber. This combination has benefits for both the heart and liver.