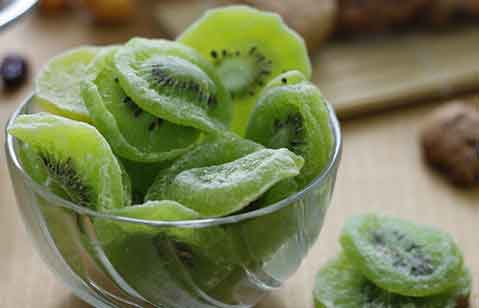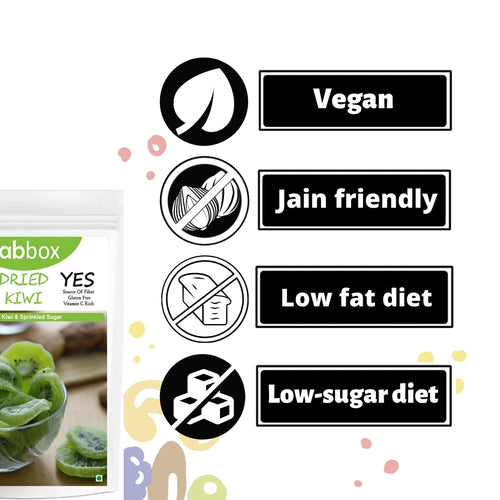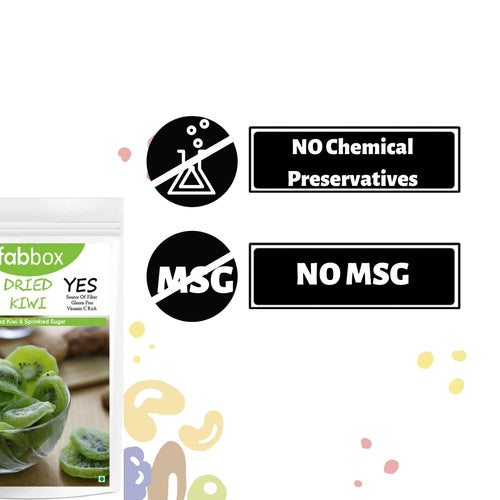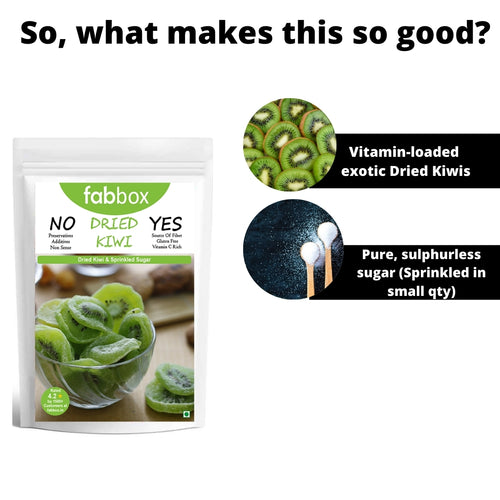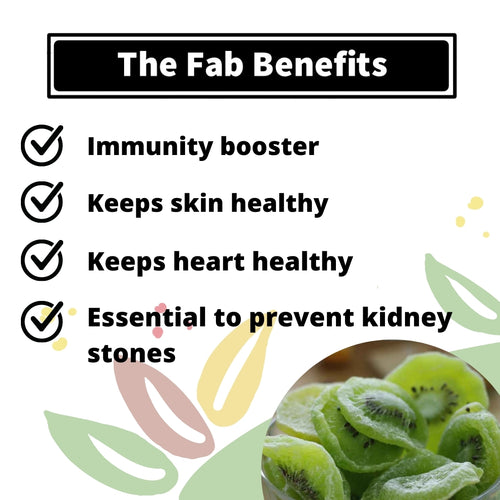 Weak eyesight? Luckily, you can choose this with your eyes closed! :p

An ultimate goldmine of nutrients, not only is Kiwi one of the healthiest fruits you can ever have, we have also made it easier for you to carry it anywhere! We have dried the Kiwi while keeping all its nutrients intact, so you can carry this tasty health bomb anywhere without the risk of spillage or damage!

PS - Dried Kiwis last long, not our stocks! Stock up NOW!

Shelf Life
6 Months
Health Benefits
Boosts your immune system.
Highly rich in Vitamin C; helps fight Asthma.
Source of Vitamin K which is essential to manage blood clots.
Known to protect eyes from vision loss caused by Macular degeneration

Nutritional Information
| Nutritional Facts | *Value Per 30g | *Value Per 100 g |
| --- | --- | --- |
| Calories (Kcal) | 108.00 | 360 |
| Proteins (g) | 0.30 | 1 |
| Total Fat (g) | 0.00 | 0 |
| Saturated Fat (g) | 0.00 | 0 |
| Trans fat (g) | 0.00 | 0 |
| Polysaturated Fat (g) | 0.00 | 0 |
| Monosaturated Fat (g) | 0.00 | 0 |
| Cholestrol (g) | 0.00 | 0 |
| Sodium (mg) | 78.00 | 260 |
| Total Carbohydrate (g) | 24.00 | 80 |
| Total Sugars (g) | 18.75 | 62.5 |
| Fibre (g) | 1.50 | 5 |
* Approximate Values