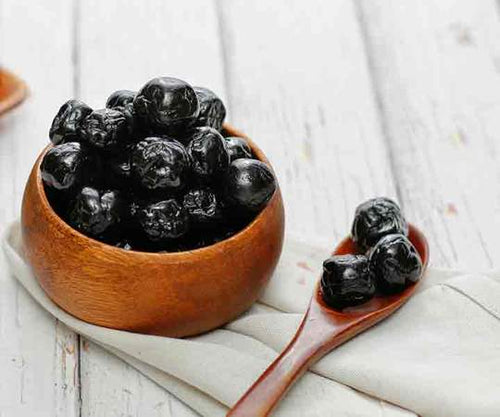 Plums are naturally a bit tart, but with the sheer amount of nutrition they possess, we thought we should do something to make them tasty! We couldn't obviously add lots of sugar to it, so we decided to do something Out Of The Box!

And so, we came out with Blueberry Plums. Yes, you read it correctly! These are dried plums with a bit of naturally sweet Blueberry Juice infused into it. The result is just phenomenal! You get the best of both worlds when it comes to taste, while also getting max nutrition from it. NO way you cannot try this one out!

PS - Contains a seed, recommend you to keep a tissue/bowl handy for proper, clean disposal. Do not litter!

Health Benefits
- Help control sugar levels as the fiber slows the rate at which your body absorbs carbs after a meal, causing blood sugar to rise gradually.
- Source of Vitamin A which helps to improve vision and prevent macular degeneration in old age.
- Source of Vitamins C which is very important for boosting immunity.
- rich in antioxidants, which are helpful for reducing inflammation and protecting your cells from damage by free radicals.
Fantabulous
Everyone should try for at least once ,,worth to eat
Very delicious! Couldn't stop eating them