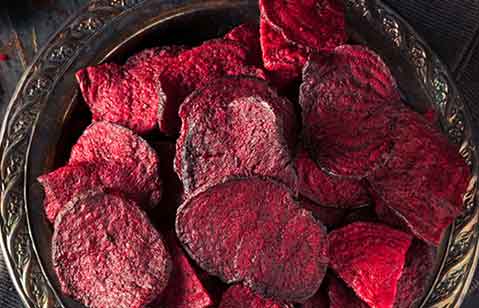 Who knew beetroot could have such a glam avatar! Beetroot lovers, beetroot haters, both the kinds of people absolutely love the chips versions of it. Beetroot's raw, natural sweetness lends a magical aftertaste even as the crispiness and the smokey barbeque flavor leave you craving for more and more. One of our all-time best-sellers, it is loved by all kids and adults alike.

The best part is that these chips are non-fried, which means they have almost 82% less oil than standard market chips. So yes, you can be on a diet and still relish chips like never before!

Health Benefits
Low fat, low cholesterol
Helps maintain Blood Pressure
Improves blood quality
Source of fiber, iron, and Vitamin C
Love these,they are simply yummm...once u start having u just can't stop...if you love barbeque flavor then just don't think just go ahead and buy its too good..
Crisp and good in taste. Overall the quality of chips is nice. Great packaging n stays air tight.